Are you looking to renovate your bathroom in Dubai? And confused, that what would be the cost? So, your search ends here. We will be discussing important factor, point by point related to bathroom renovations in Dubai. 
What
Important points to consider, prior to Bathroom Renovation.
If you considering bathroom and toilet renovation, then you should consider following points:–
Renovating a bathroom in Dubai for apartment owners, you must consider, few things to be kept in mind. In general, it becomes mandatory to get a NOC from building management and the concerned authority for that community.
Some of the places in Dubai, taking approval from Government Authority is not required. We did a few bathroom renovations in an International City, Dubai.
We did get in touch with Trakhees Modification Department for approval. They just asked the activity and made sure, that we are not changing any structure inside and asked us to get ahead with the renovation.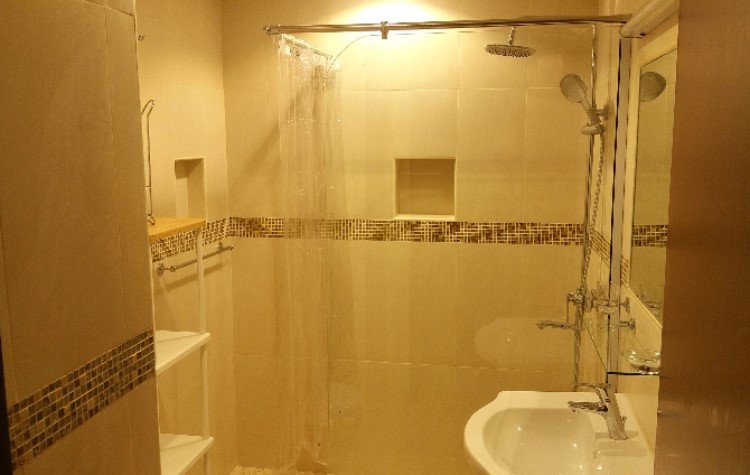 High-quality Bathroom renovation cost for International City, Dubai.
In International City, the cost of renovation is comparatively less than other communities. The reason is that with fewer hassles, the work gets done. Below is the break up on a Bathroom renovation cost in Dubai.
To break and dispose of the existing construction waste, it cost around AED 1500/ to AED 2500/-
For plaster the wall of 2.0-meter x 2.5 meters, the bathroom will cost AED 1000/ to AED 2000/-.
To Water-proof using Mapei Waterproofing compound, it requires, roughly around AED 1000/-.
For Ceramic/ granite/ porcelain floor and wall tiles, the cost will be around AED 1500/- to AED 2500/-.
For Masonry work, it will cost around AED 1500 to AED 2500/-.
Plumbing work and good quality sanitaryware Supply installation, AED 3000/- AED 4000/-.
So on an average, the bathroom renovation in International City will cost you minimum AED 10000/-, and it can go up to AED 20000/- including material.
High-quality bathroom renovation and remodeling cost in other areas, for an apartment in the Towers.
Renovating the bathrooms in Towers are little tricky and challenging, due to so many policies and procedure in place by Building Management. Ideally, It takes minimum 2-3 days to brake and dispose of the entire inner skin of a washroom. Breaking and disposing of the construction waste is the noisiest period while making the new bathroom.
A bathroom renovation cost in Dubai upscale area's is little expensive than the standard area's. A good bathroom renovation companies in Dubai will charge you a minimum of AED 20,000/-. The cost increases, as per customer demands on types of wall tiles, floor tiles, and sanitary-ware brands.
Bathroom remodeling Dubai for Villas.
When it comes to bathroom remodeling Dubai for Villas, the cost varies drastically. Because documents requirement is rare, usually no documents are required in freehold areas. In any villa there are multiple, washrooms and toilets, so the labor and disposing of charges reduced.
The labor cost for Bathroom remodeling in Dubai starts from AED 7000/ bathroom, and for material, it all depends on the client. The more luxury brands you go for, the more you pay.
Bathroom renovation cost estimator Dubai
If you are looking for professional bathroom renovation cost estimator in Dubai, then you must get in touch with Aaashi Services. With Aaashi Services, you can get all the professional help you need to renovate your bathroom in Dubai or the complete Home renovation and restoration services.
A proper bathroom renovation cost estimator Dubai is very difficult to get. You will get contractors who will force their products and make sales. But with Aaashi Services, you will have a proper session understanding your needs and budget.
Aaashi Services will help you choose a proper product, and can guide you understanding flaws in some products, which you may not know.
An average cost of a bathroom remodels per square foot.
An average cost of a bathroom remodel per square foot will be around AED 125/ square foot to AED 175/ square foot. It is just an idea as per our experience, it may vary from customer choice and situation.
The average cost of a bathroom remodels per square foot, much depends on what you are looking. It can cost as low as AED 3000/-, and it can go up on your demand.
Points to keep in mind on bathroom renovation cost in Dubai.
Never go for cheap fixing method for bathroom renovations. If you skip any of the above, you may have to break the bathroom in a month, due to leakage issue for the person staying on your floor, complaints.
Get a warranty for the service of the contractor, in case, if something goes wrong in future for a specified period. If the bathroom does not leak within four weeks, it will never leak.
Before,  laying the floor tiles, do the leak testing. The contractor can block all the drainage connection temporarily and can fill water till certain height and leave it for a day or two.
Get in Touch with a bathroom renovation cost estimator Dubai
Get in touch with a bathroom renovation cost estimator Dubai with a free service warranty. If you still have any doubts about bathroom remodeling Dubai, then you can always call, chat or send us an email.