The Quality Air Conditioning service in your area.
HVAC stands for "
Heating, Ventilation and Air conditioning
" system. Along with the 
best renovation services
, we indeed provide you the high-quality HVAC or Air conditioning service in Dubai. It is essential for a Dubai resident to take care of Air Conditioning systems, especially in the summer season. There are various varieties of air conditioning systems available in the local market. In general, you can see an ideal Air conditioning system with a ducted split unit. In this scenario, the outdoor air conditioning unit or a condensing unit stays outside, and the Fan Coil Unit or FCU stays inside.
Deal on Air conditioner maintenance and repair in Dubai
If you have frequent trouble with your air conditioning system, then you must try our air conditioner repairing service, and we will guarantee, that you don't get to see us for a long time. Usually, frequent air conditioner repairing can happen, if you do not keep your indoor and outdoor unit filter cleaned. So, it is mandatory to schedule AC cleaning, time to time, to avoid spending on major spare parts.
How does an Air conditioning system work?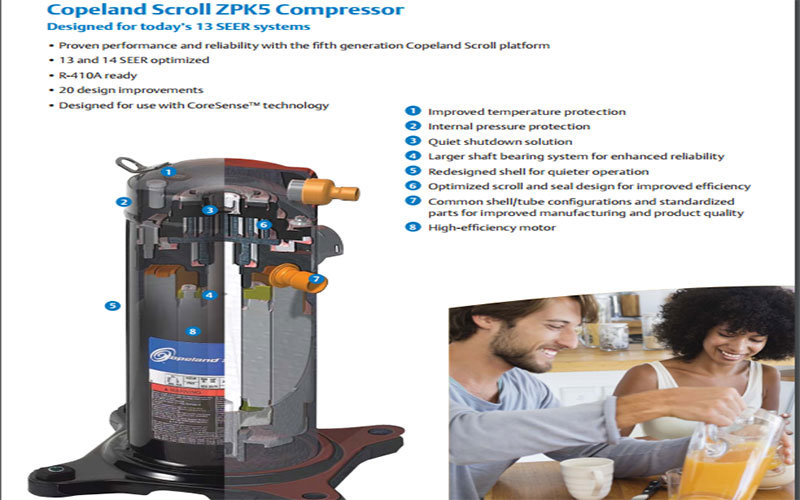 In layman's language, the air conditioning system works similar to the refrigerator. Therefore, there are three main components of any cooling system.
The compressor.
The condenser.
The Evaporator.
The compressor is like the heart of any air conditioning system. The work of the compressor is to compress the liquid refrigerant, i.e.,
R22
or
R410
to a high-pressure gas. Further, you can see the below image of the Copeland compressor. Therefore, the high-pressure gas travels through a condensing unit, and it releases the heat and converts it to a cooling liquid. The cooling fluid straight away goes to
the evaporator,
 which is also called an indoor unit
.
Below is the image of an outdoor condensing unit and the evaporator and the cycle continues.
Air conditioning service in Dubai, U.A.E.
The resident must maintain their cooling system to avoid paying more for your Air conditioning service in Dubai. In other words, if you do not get your AC serviced frequently, then you will be ending up spending an equivalent amount of a new air conditioner for repairs. Honestly speaking, AC repairs are very tricky. A technician can easily fool the customer when it comes to an AC repair. So, it's our request to give priority to AC maintenance.  Wear and tear do happen, but it should not become a frequent problem.
What is AC preventive maintenance service in Dubai? And what it covers?
An AC preventive maintenance covers servicing of the maximum exposed component. Our technician performs the following task when they go for a service call.
Cleaning the indoor unit filter, fan motor, and coil unit with high-pressure water accept the fan motor.
Cleaning the outdoor unit condenser coil with high-pressure water accept the fan motor.
Lubricating the fan motor shaft.
Checking the refrigerant level and topping up, if required.
The result of not getting the air conditioning service in Dubai.
In the below image you see, how an outdoor unit with a deco-split air conditioning unit gets dirty. It is often common that the indoor and the outdoor unit gets dirty with time.  To avoid significant mechanical damage and lousy odor, air conditioning service in Dubai is a must. The
Ac Servicing Video
show, how we cleaned the outdoor unit with a water jet spray. We cleaning the AC outdoor unit and the Indoor unit for this customer, the Air conditioner started cooling, and the lousy odor disappeared.
How much does a typical AC repair cost in Dubai?
Nowadays, people do often forget to save contact details for the AC repair technician or AC maintenance company or misplace the invoice after they get their AC serviced or repaired. We tend to ignore it in many ways. This problem results in paying a high price for AC Repair or Service next time. Because, as a contractor, when we get an AC to the service call, we treat them as a new client because we do not have any records of the client's previous AC repair or service. Let us take an example of one scenario for AC service in Dubai:–
Client calls and complains that his AC is not cooling:–

When we get these kinds of calls, our first impression is that we have to check the problem, which requires one visit only to evaluate the problem. Then, we get the price of the faulty component and revert to the client, with a Quote. We, generally add one or two extra visits to the client's quotation. Let us assume if the client called us for the problem and we found out that the AC is not cooling, due to a faulty "run capacitor, " and we do not have that particular capacitor, with a specific "frequency."
Some contractor quotes the client, like this for two visits AED 250.00 plus AED 100.00 for the material, so the total amount stands at AED 350.00/-. The cost of a run capacitor is AED 10.00 to AED 30.00/. And one visit is from AED 100.00 to 200.00. Instead of paying  AED 150.00 to AED 200.00, the client ends up paying more than AED 300.00/. So, it becomes, more important to trust your technical services company and call the previous contractor, who serviced your air conditioner.
Benefits of using the previous AC maintenance company for repair.
Get a quick AC service, avoiding any delays.
You get a better price than others.
An immediate resolution because the contractor will send his AC technician with a general component, suitable for your Air conditioner system.
You get better quality because the contractor knows, you will call him again if the issue persists.
The trustable team in Dubai.
Which is the most expensive part of Air conditioning system?
How much does it cost for AC service in Dubai?
Ideally, an AC service can cost you around AED 100/- to AED 250/-. The price varies from location to location and the type of AC units installed in your apartment. If you have a window AC installed, then the price may drop further, if it is in an accessible location. If you have deco- split unit, then it will cost you around AED 100/- to AED 150/-. Provided there is no time delay due to building management and security. If you have a ducted split unit, the cost will be a minimum of AED 150/- to AED 200/-, because the ducted split unit is more complicated to service. We ideally, service only the indoor unit for central service heating and cooling system. The cost is around AED 200/- and above because it requires highly skilled engineers to perform the AC service. For DIY, queries, and suggestions, you can log in to our 
DIY
section.
Feel free to contact us, if you are facing problems with your air conditioning system.