Top notch wooden work
Highly skilled wood carpenters near you
Get your kitchen remodeled by us
High quality kitchen remodelling, various option available
Hardwood flooring expert near you
Professional to provide Hardwood flooring in Dubai
Looking for wooden pergolas?
Best shop to provide outdoor pergolas in Dubai
Economical Carpenters in Dubai.
Since 2012, we are undertaking various carpentry works in the U.A.E. Aaashi Services provides, one of the best in class furniture carpenter and cabinet carpenter in Dubai. Aaashi services in one of renowned Dubai carpenter company. Our furniture carpenter in Dubai is well aware of current market trends and furniture design. In general, we make furniture of solid wood and MDF cabinet for drawers and cupboards. Furthermore, you can see a below image of MDF cabinets made by our Cabinetmaker in Dubai.
PU FINISH DOORS
High-gloss MDF cabinets for Office in Dubai
SOLID WOOD WORK by Woodworker in Dubai
Outdoor timber decking by the best carpenter in Dubai.
Our company undertakes all kind of outdoor wood decking carpentry works in Dubai, Sharjah, and Ajman. Recently, we made outdoor decking for one of client based in Sharjah, UAE. Below you can see some photographs for outdoor timber decking done by our carpenter in Dubai.
The curve and the joints of the wooden deck were steep to maintain. We made this beautiful park, look stunning, regardless of the technical challenges we faced during this project. When it comes to outdoor work, the climate is the most important thing we consider. All the component used to fix the wood deck were A4-80 grade stainless steel material. Due to, moisture and salt in the air, a conventional SS material will also destroy, so we did salt spray test of hardware before fixing on the timber decks.
Best Outdoor Wooden Deck or Timber Deck available for Dubai weather.
In general, Dubai weather is always sunny, hot and humid and it becomes essential to choose a right wood deck or timber deck, especially for dry weather. The suitable treatment is also mandatory, to avoid early wear and tear.
Additionally, the fast-moving wood or timber for decking in Dubai are as follows:–
MADE WITH LOVE AND CARE
Our Furniture carpenter make each and every furniture with love and care. In fact, our professional carpenter also make sure, that our product reaches the clients expectations. Dealing with us, give you a peace of mind with a warranty, be it MDF work, Solid wood or Timber Furniture's, our carpenters does it all.
Our expertise on Carpentry or Joinery Work
Since we do a lot of gypsum partition work in Dubai, we usually get the work for supply and installation of solid or semi-solid wooden door and Interior wall painting.
Below are the recent images for supply and install of semi-solid wooden doors.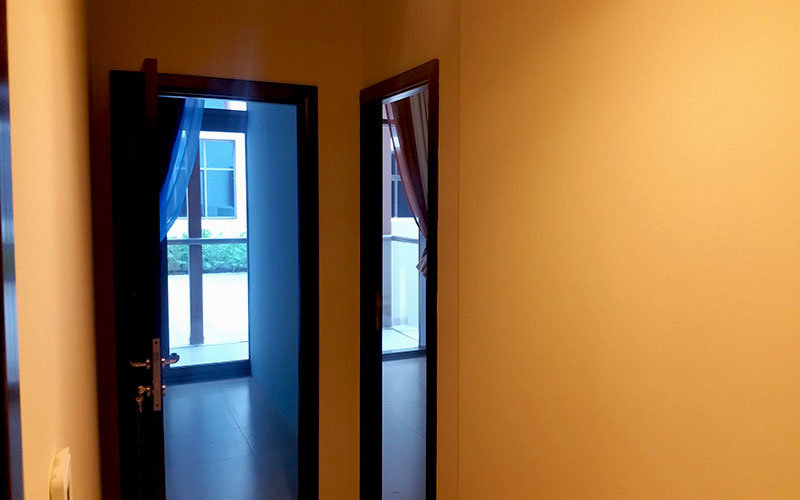 A sliding door and pass-through kitchen maker in Dubai.
We make all kind of sliding doors and kitchen pass through, depending on clients budget in Dubai. Be it a wooden sliding door or a glass sliding door or any pass-through; we do it all. We have one of the skilled Dubai carpenters, to suit everyone's needs. Our Dubai carpenter can provide the cheap and best carpentry solution. Below, you will be able to see a semi-solid wooden sliding door installed in one of our client's apartment by our Dubai carpenter.
We also did the kitchen wall partition along with the carpenter Dubai. Moreover, we do all kind of modification and building restoration work in Dubai.
Contact us today to get the best deal from the best Dubai carpenter company.
Our Dubai carpenter company do all kind of carpentry works, and we have the best carpenters in Dubai, such as furniture carpenter in Dubai. We have been providing carpenter Dubai for a long time and renowned as a professional Dubai carpenter company in the region.
Book now or call +97150 628 0069 today or send us a Whatsapp message to get an instant quote within 30 minutes.