Gypsum Ceiling work for an Exhibition Stand in Trade Center, Dubai.
Aaashi Services recently executed a ceiling work of 300 square meters, in 48 hours. Multiple works were going in parallel to our work. We were tasked to finish the gypsum work in stipulated time, and there was no room for excuse.
To close this gypsum ceiling work, it required six sets of gypsum carpenters and three group of painters to close the project. Precisely, we used 90 minutes fire rated gypsum boards along with right quality furring channel, C channel & GI angle.
For painting, we used Boral Joint Tape, Terraco Joint Compound, Gypsum powder, 120 grit Sanding paper, National Primer and stucco and National Plastic Emulsion Paint.
In the below video, you can have a feel of the final look of the gypsum ceiling work for an Exhibition Stand in Trade Center, Dubai.
Kitchen wall partition with sliding wooden doors in Dubai.
Recently we got an inquiry for kitchen wall partition since it was an open kitchen and the lady of the house had a small baby. A lot of people do like the open kitchen, but sometimes for the sake of the safety of babies, it shouldn't be open. Below you can see the image before any modification in kitchen walls.
After a thorough discussion with the flat owner, we came up with the kitchen wall modification idea. In the below image, you can see the kitchen partition work with a sliding door to the kitchen entrance and kitchen pass through.
Furthermore, you can see below the Front view of kitchen wall partition done in Dubai.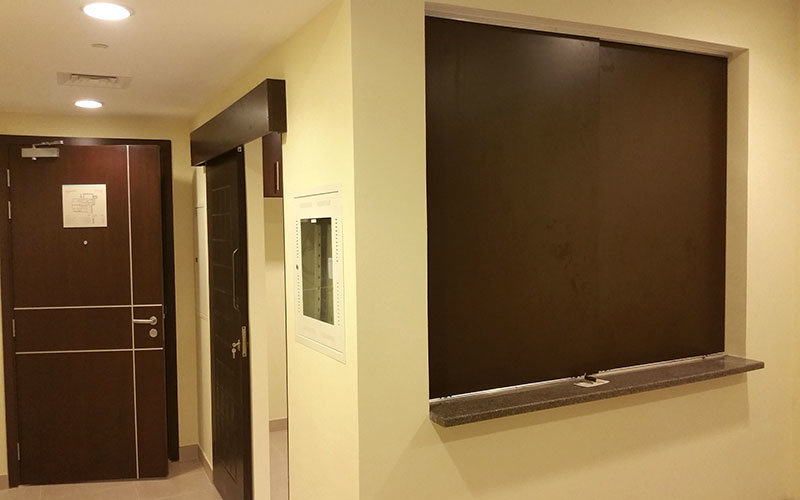 Kitchen ceiling tiles replacement with Gypsum board ceiling.
Recently we got an inquiry to replace the ceiling tiles with suspended gypsum board ceiling. In the below image you will see 60 by 60 tiles, and we replaced it with a suspended gypsum board ceiling.
The ceiling area of the kitchen was approx 20 square meters, and our scope was to replace it with gypsum board. We First removed the existing fixture and installed furring and c channel with the necessary support to the concrete wall. Refer to the below image; you will see fixing the furring channel and c channel suitable for gypsum board.
Below you can see the final product, i.e., Gypsum board ceiling with Eggshell paint finish. The cost of making gypsum ceiling for the kitchen can be around AED 2000.00 to AED 4000.00/-. It includes removing existing housetop, disposing and installing a new roof with light fixture and paint.
A short video showing fixing the gypsum track, gypsum stud, and the 12 mm standard board.